Weltkunst Portal for
the ZEIT Verlag ⸻
Design for the iconic
Publishing House

2015
Client
ZEIT Kunstverlag
Cooperation with Fuerstvonmartin — Partner Agency in Hamburg, Germany
Photo Credit: weltkunst.de
Scope
Cooperation on concept
UI / UX Design
ZEIT Verlag
Weltkunst is a well-known and reputable German magazine on art and antiques, published since 1930 by the ZEIT Publishing Group. Offered in print 14 times a year and online at weltkunst.de.
Weltkunst Online presents news from the art and antiques scene with analyses, reports and expert commentary. The magazine also provides the largest German art calendar for events from around the world, as well as news and recommendations from auction houses.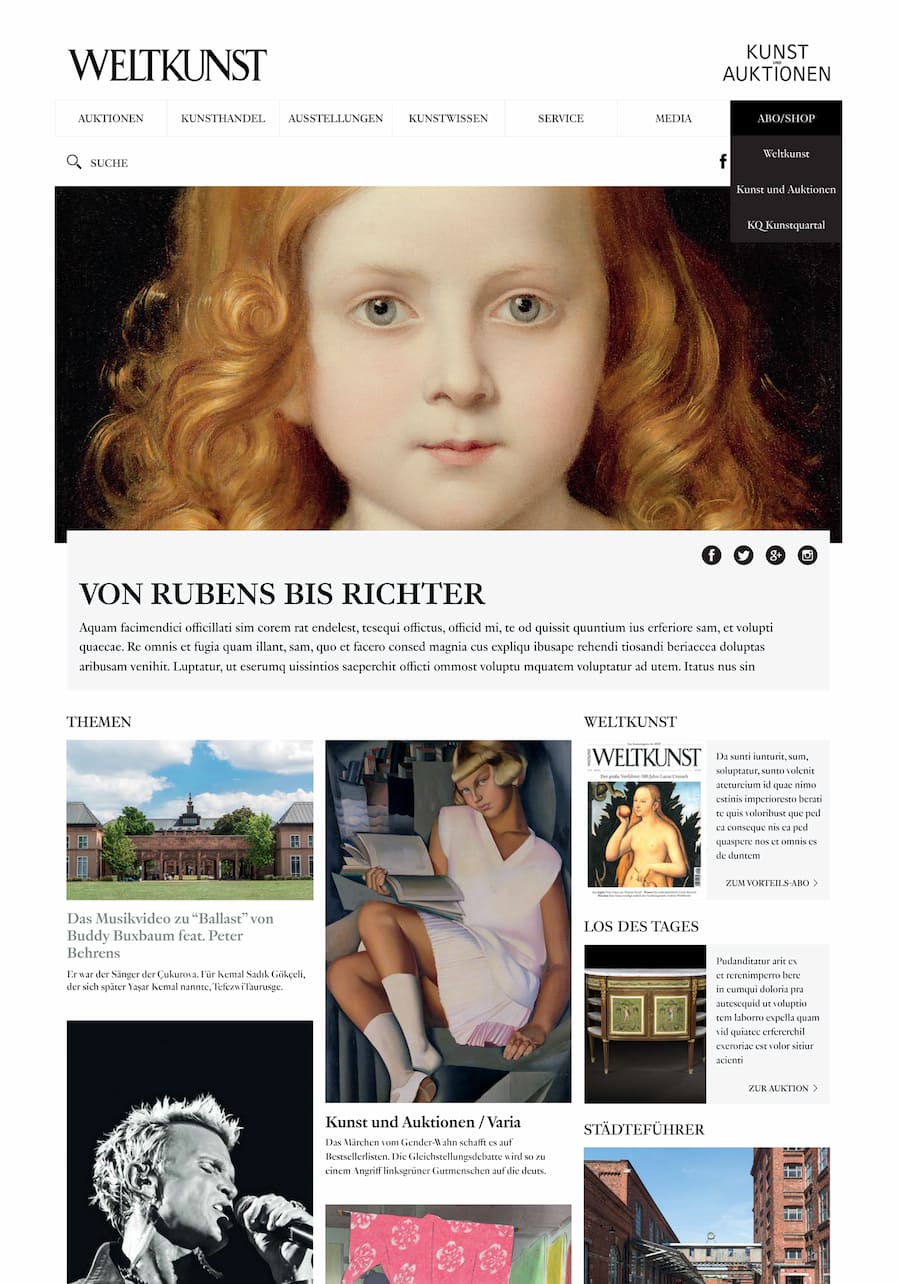 The Project
We stand behind the design of Germany's most renowned magazine for art and antiques, which is being published since 1930 by the ZEIT Verlag.
For a project so rich in diverse and emotion-evoking content, we opted to use a design philosophy we call Typographic Interface. The main idea behind this philosophy is to operate as much of the design in the background as possible and let the design speak mainly through proportions resulting from content-carrying typography and the content itself.
A minimalist design with the highest attention to detail, character-defining font choices, a rigid but flexible grid system, and only a few, but very intelligently-chosen design accents let the presented artifacts come forward and tell an enticing story of art and culture. The beauty of the design lies in its subtle references to print and an expressiveness achieved through a juxtaposition of calmness and self-confidence. Instead of going a retro route, we carried out an intellectual reinterpretation that pays great respect to the publication's tradition, but at the same time situates Weltkunst right in the digital-first era.
The project was carried out together with Fuerstvonmartin, Modulus Partner Agency in Hamburg, Germany.